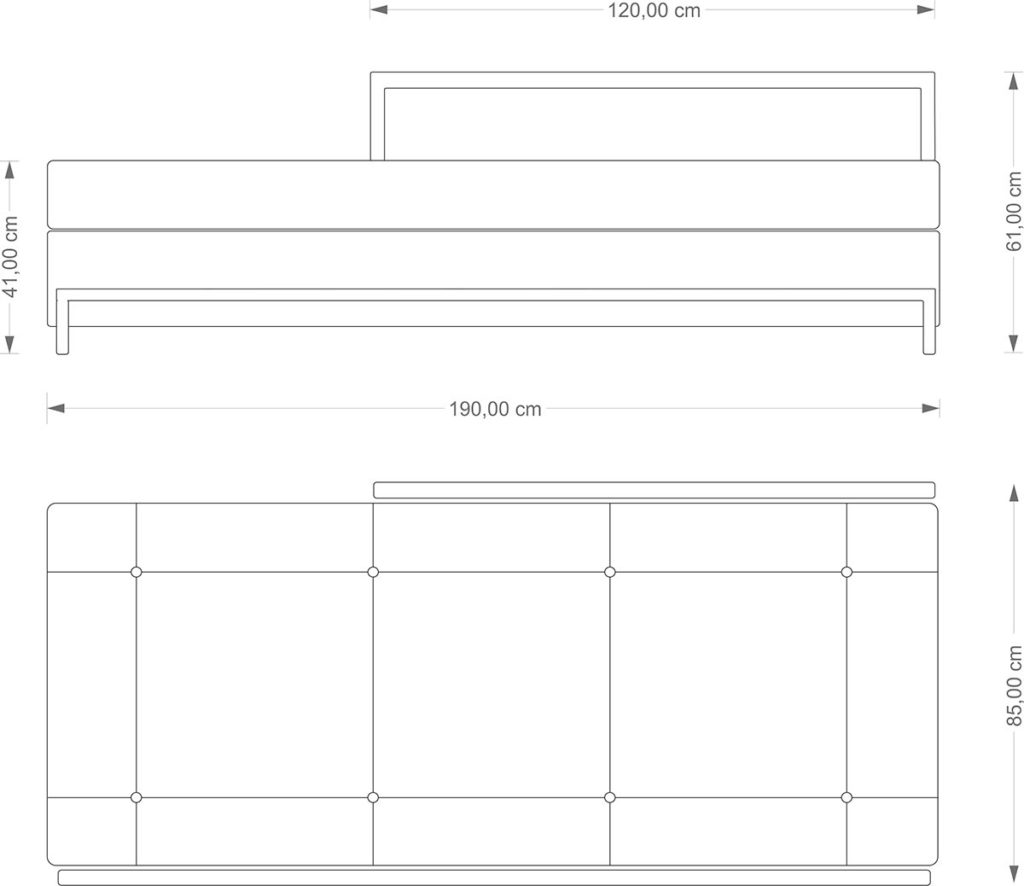 Eileen Gray Daybed
Cadre en tubes d'acier chromé.
Matelas en mousse sur un cadre en bois.
Recouvert de cuir aniline respectant l'environnement.
Le Daybed est une représentation divine de la beauté fonctionnelle des designs d'Eileen Gray.
Les lignes nettes, la versatilité simple et l'artisanat d'excellente qualité de steelform font de cette copie fidèle à l'original une pièce de mobilier convenant parfaitement aux espaces de réception du public, mais aussi pour votre salon personnel. Lorsqu'elle est placée seule dans une pièce spacieuse, vous pouvez vous assoir dans n'importe quelle direction, sans oublier qu'elle peut très bien être utilisée pour une petite sieste rapide ou comme lit d'appoint si vous avez des invités.
Rien n'est plus embarrassant qu'une copie de mauvaise qualité !

Notre reproduction Daybed d'Eileen Gray vous permettra de posséder une pièce de mobilier qui ressemblera au design d'origine et qui vous offrira également le confort qui va avec.
Élégant cadre en tubes d'acier

Ce design est particulièrement séduisant de par son cadre en tubes d'acier soudés formant des angles bien définis. Il s'agit du signe distinctif d'Eileen Gray et cette caractéristique nécessite une extrême précision au niveau des processus de soudage et de polissage.
Comme pour tous les classiques de steelform, les tubes en acier sont finis avec un procédé de placage en trois étapes pour obtenir une brillance élégante.
Base robuste

Le cadre en tubes d'acier entoure un caisson en bois recouvert de sangles en nylon. La base est remplie de rembourrage Dacron et recouverte avec notre meilleur cuir aniline.
Confort dans lequel vous pouvez vous enfoncer

Le matelas amovible de notre Eileen Gray Daybed est fabriqué avec de la mousse indéformable. Une couche de rembourrage Dacron rajoute du confort et arrondit délicatement les contours.
L'excellente qualité du rembourrage fait de cette banquette un lit d'appoint idéal, à condition que votre hôte ne soit pas trop grand. La banquette mesure 190 cm de long.
Cuir somptueux

Le revêtement de notre banquette Eileen Gray est soigneusement fabriqué avec des panneaux en cuir choisis méticuleusement. Chaque panneau est cousu à la main. Chaque bouton est fini individuellement et recouvert du même cuir.
Remboursement à 120 % !
Faites-nous savoir si vous trouvez une reproduction de meilleure qualité que la nôtre.  
En plus de vous rembourser en intégralité, nous vous offrirons un bonus de 20 % pour nous avoir aidé à améliorer nos produits.
Qualité d'origine à 100 % !
Nous faisons même attention aux plus petits détails.
Nos meubles sont fabriqués en suivant les mêmes standards que les produits plus chers que vous connaissez.
Garantie de 10 ans !
Nos meubles sont conçus pour durer toute la vie.
Pendant les dix premières années, nous remplacerons ou réparerons tout article qui est endommagé à cause de problème de matériaux ou de fabrication.  
Any Questions?
Here you go with some answers
Is your furniture authentic?
We are building excellent modern reproductions of classic designs from the Bauhaus era to Mid Century, which absolutely match the very high quality standards of the products that are marketed to be the one and only "authentic" ones. We are talking of up to 90 year old designs which have been produced by different companies over the decades. Also materials and production technologies have greatly improved since the first prototypes. Calling any modern version of such "authentic" is nothing but a marketing hoax.
How much is shipping?
Within Europe:
Shipping is free!
Overseas and wordlwide:
Shipping is free for any purchase over $ 3,000
For lesser amounts, simply send us your order and we will get back to you with an exact price.
Is it legal?
50+ year old furniture is not copyright protected in most countries of the world. Exceptions do apply for some European countries, but since goods travel freely within Europe and there are no customs borders, you are free to order from us whatever you wish.
Payment methods
The safest and most easiest way is to use your credit card. We will however accept wire transfers if you don't have a credit card of for higher amounts in corporate purchases.
I have seen this item for less!
Definitely none of ours! There is however a plethora of cheap copies which may look alike but certainly aren't.
Our furniture is thoroughly handcrafted in Italy using the best materials. Given this, our pieces are an incredible value for money.
Can I get a discount?
Sure you can, if you want to order several items. The more you order, the higher your discount will be.
How long will the delivery take?
Our furniture is handmade made to order, so we can not compete with the speed of Amazon & Co. Generally speaking, our goods are ready to ship within 3 to 4 weeks from the date of order. Shipping itself takes another week within Europe. Shipping overseas by air takes only 3 days!
Another question?
Please write us, we will get back to you as soon as possible
Un excellent lit d'appoint !
La banquette attire véritablement l'attention dans mon studio !