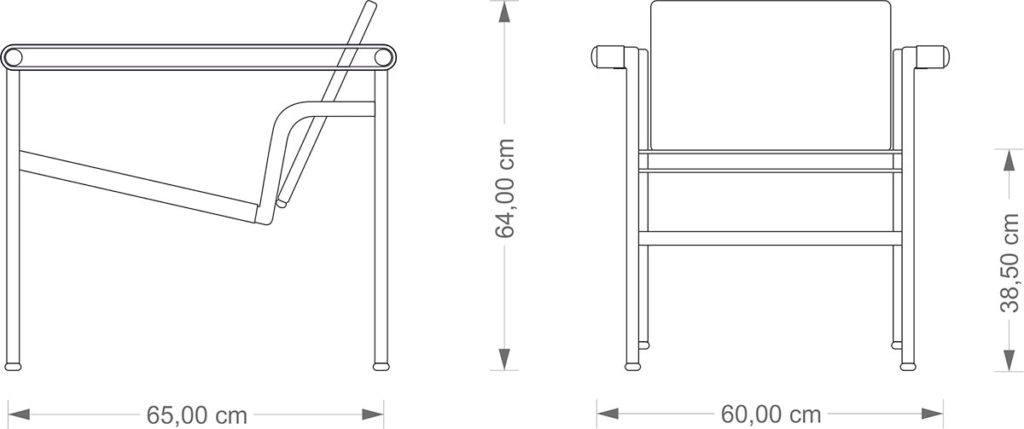 Basculant sling chair
Frame made of chrome plated tubular steel. Adjustable backrest.
Seat and backrest finished in calf hide. Armrests made of black saddle leather.
The basic idea behind the LC100 chair with an adjustable backrest dates back to British colonialism, when officers took along similar collapsible, wooden chairs. Le Corbusier reinterpreted the chair using steel, creating the "Fauteuil á Dossier Basculant", which was exhibited at the Paris Autumn Salon in 1929.
There is nothing more embarrassing than a poor copy!

Our reproduction of the Corbusier Basculant chair means that you will get a piece of furniture that not only looks like the design it was based on, but also feels like the real deal.
Striking from any angle
This chair is stunning, even from behind, thanks to its chrome plated steel springs. Copies use black plastic.
We use calfskin
The chair that Le Corbusier exhibited was made with foal skin. Today, for various reasons, we make the chair using European calfskin.
Please note that this is a natural material and we have no influence over the markings on the hide. Every chair is one of a kind!
Flawless chrome finish
Like all steelform classics, the weld seams on the LC 100 chair are carefully sanded and polished so that they are almost invisible.
Afterwards, the steel is coated with two layers of nickel and then finished in high-gloss chrome.
120% Money back!
If you can find any better quality reproduction than ours, let us know.  
We will not only refund you, but add a 20% bonus for helping us improve our products.
100% Original quality!
We take care of even the smallest details.
Our furniture is made to the same high standards than the much more expensive products you know.
10 Year Guarantee!
Our furniture is built to last a lifetime.
During the first ten years we will replace or repair any item which is damaged due to a fault in material or manufacturing.
Any Questions?
Here you go with some answers
Is your furniture authentic?
We are building excellent modern reproductions of classic designs from the Bauhaus era to Mid Century, which absolutely match the very high quality standards of the products that are marketed to be the one and only "authentic" ones. We are talking of up to 90 year old designs which have been produced by different companies over the decades. Also materials and production technologies have greatly improved since the first prototypes. Calling any modern version of such "authentic" is nothing but a marketing hoax.
How much is shipping?
Within Europe:
Shipping is free!
Overseas and wordlwide:
Shipping is free for any purchase over $ 3,000
For lesser amounts, simply send us your order and we will get back to you with an exact price.
Is it legal?
50+ year old furniture is not copyright protected in most countries of the world. Exceptions do apply for some European countries, but since goods travel freely within Europe and there are no customs borders, you are free to order from us whatever you wish.
Payment methods
The safest and most easiest way is to use your credit card. We will however accept wire transfers if you don't have a credit card of for higher amounts in corporate purchases.
I have seen this item for less!
Definitely none of ours! There is however a plethora of cheap copies which may look alike but certainly aren't.
Our furniture is thoroughly handcrafted in Italy using the best materials. Given this, our pieces are an incredible value for money.
Can I get a discount?
Sure you can, if you want to order several items. The more you order, the higher your discount will be.
How long will the delivery take?
Our furniture is handmade made to order, so we can not compete with the speed of Amazon & Co. Generally speaking, our goods are ready to ship within 3 to 4 weeks from the date of order. Shipping itself takes another week within Europe. Shipping overseas by air takes only 3 days!
Another question?
Please write us, we will get back to you as soon as possible
A great little chair, surprisingly comfortable given its size.
Both chairs look fantastic in my lobby.